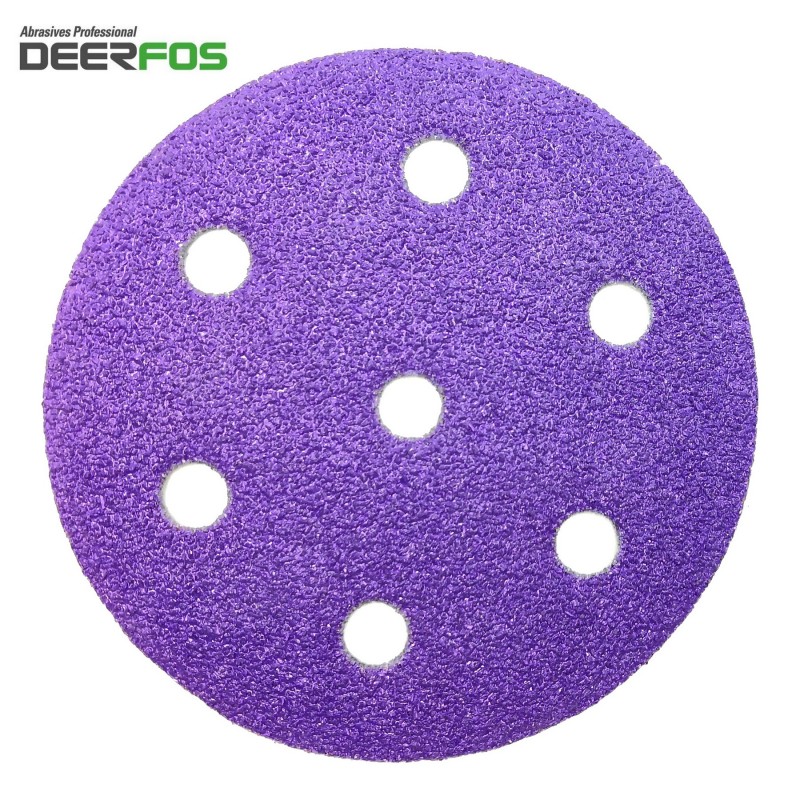  
90mm 3.5" ceramic Deerfos Bora 1 sanding discs for Festool Rotex, hook and loop, P40-120
Perfect for hard wood, steel, metals.
For Festool sanders only
Delivery
Free delivery on orders over £40, various services available (RM24, UPS)
* Premium full ceramic grain on durable film backing.
 * Extremely though, long lasing and high performing through ceramic grain.
 * Fast cut with sharp grain and anti-clogging with Deerfos chemical coat.
High-quality ceramic abrasive discs - Deerfos Bora1 - designed for aggressive grinding of hard materials - steel, stainless and noble steel, hard wood, varnishes and gel coats.
Eagerly used in the metal, boat building and parquet industry. The ceramic material used has self-sharpening properties, thus for a long time the sandpaper grinds at a constant speed.
 Bora 1 discs are much more efficient than zirconium (blue) discs.
They work very well when sanding steel, removing old paints and varnishes (including, for example, gel coat), removing rust, removing hard paints, sanding hard wood. The discs are also suitable for grinding (sanding) stone and granite, corian and light grinding welds. They can be used in either an eccentric or angle grinder (after using the appropriate attachment).
Sanding discs are made on thick and durable polyester film - thanks to this they are very resistant to tearing and fraying during intensive grinding.
1. PRODUCTS -Product Type: BORA-1
Product Range (Available Grits) : P40 ~ 220
 -Backing Material:  Polyester Film (PE film)
 -Bonding: Resin over Resin
 -Grain Type: Ceramic & Premium Aluminium-Oxide mixture
 -Coating State: Open coat  Special top coat to prevent clogging
2. PRODUCTS ADVANTAGE & MAIN PROPERTY 
 -Removal of sanding dust
 -High cutting performance & durability
3. OPERATION / APPLICATION
 -Sanding of surface and edges
4. WORKPIECES
 -Paints
 -Repair industry
 -Automotive body
-Wood Industry (Hard Wood)
You might also like