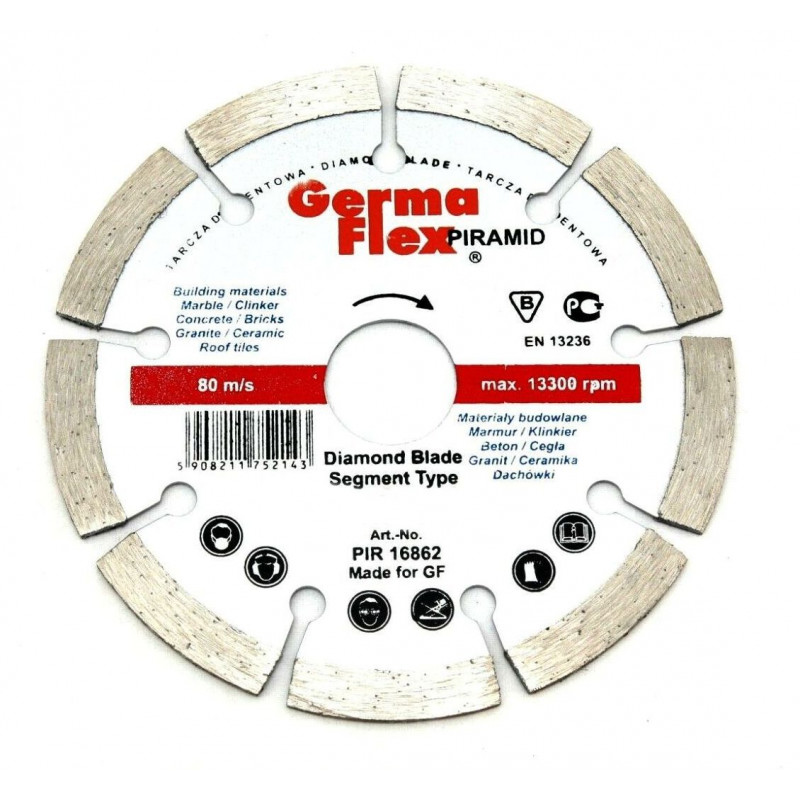  
115mm Diamond blade Segment type Germa Flex
Diamond blade Segment type for 
Milled rock tiles, clinker, concrete, bricks, granite, ceramic
Delivery
Free delivery on orders over £40, various services available (RM24, UPS)
Quality Cutting Diamond Blades
Germa Flex 115mm
Choosing The Right Blade

There are a few key points to bear in mind when selecting a diamond blade, and probably the single most important tip is to use the correct blade for the material being cut.
Recommended:
* Identify the material that is to be cut; most blade manufacturers will have a chart which shows which of their blades are suitable for which material.
 * If a blade is to be used to cut more than one material, for example, concrete blocks and asphalt, then determine which material will be cut most often and buy a blade suitable for that material.
Germa Flex diamond cutting wheels are self-sharpening. However, by frequent cutting in hard, low friction (abrasive) material the wheels can become blunt. Re-sharpening in chalky sandstone or asphalt is therefore recommended.