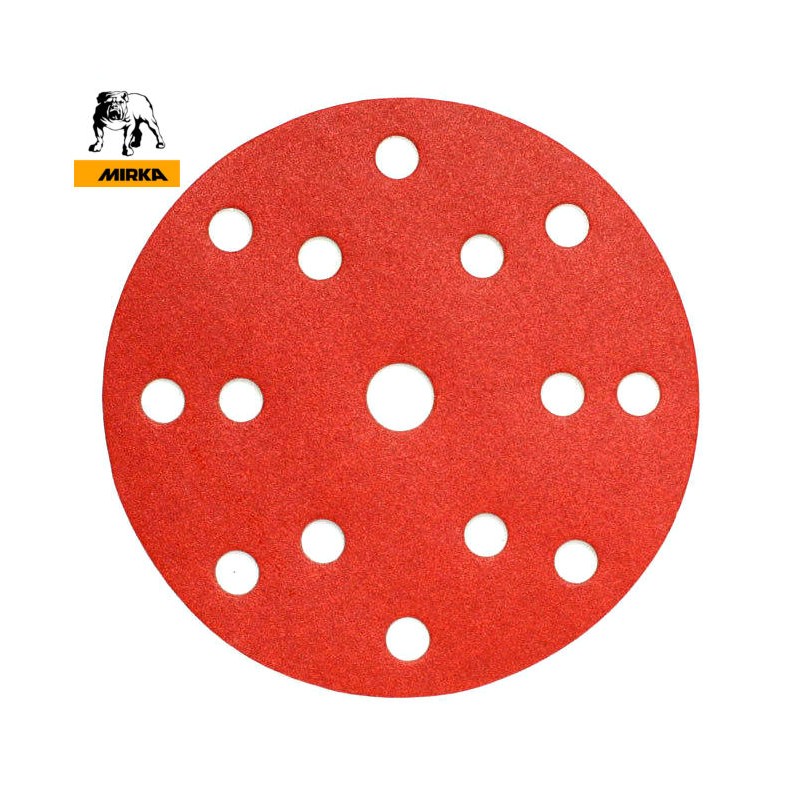  
150mm 6" Mirka sanding discs, hook and loop, 15 hole, P40-600
Mirka hook & loop sanding discs 6" 150mm 15 hole
For sanding wood, paint, varnish, plastic, plaster etc.
Delivery
Free delivery on orders over £40, various services available (RM24, UPS)
Mirka Hook & Loop Sanding Discs 6" 150 mm 15 hole
For sanding wood, paint, varnish, plastic, plaster etc.
The open configuration of the grain increased resistance to clogging when sanding 
To use in dry mode only 
Avomax / Avomax Plus
Aluminium oxide
P40-P220
Specially developed for the wood working industry, the optimized open coating and smooth surface structure of the size bond, ensures Avomax Plus is long-lasting and efficient, even when sanding materials that clog easily. Designed for improved aggressivity, stronger bonding and longer life, it runs smoothly and is resistant to humidity. The full resin bonding and aluminium oxide grain, combined with dimensional accuracy and reliability, guarantee excellent product performance in industrial applications
P320-P600 Gold
Mirka Gold hook and loop backed 150mm discs are a durable product very well suited for sanding at high speeds. Gold is an all-round sanding material that can be used for many purposes. In order to achieve an optimal sanding result, the semi-open grit binding and special stearate coatings are designed to prevent clogging and pill forming. Coarser grits are recommended for the sanding of putty and removing lacquer while the finer grits are excellent for dry sanding primed or lacquered surfaces in preparation for following coats.
Quick fitting.
For use with all 150 mm hook and loop backing pads
Bonding agent: Resin
Coating: Open
Made in Finland