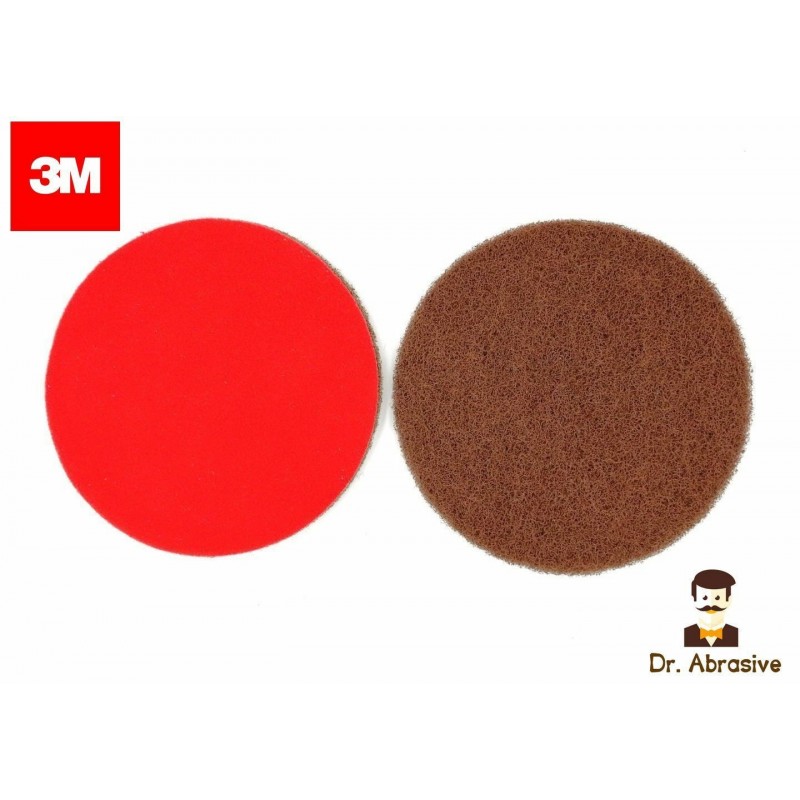  
150mm Non-woven sanding discs, hook and loop, coarse to ultra fine
Delivery
Free delivery on orders over £40, various services available (RM24, UPS)
Non-woven abrasive hook & loop discs    
Grades:
Coarse, Medium, Fine, Very Fine, Ultra-Fine
Made for us using 3M materials
Non-woven for creating a matt or stain finish
You will achieve smooth surface and edges without without significant changes in shape.
For use on a wide range of materials much a wood, plastic, aluminium, stainless steel and ferrous & non-ferrous metals. 
Moderately aggressive material offers great versatility and may be used for a variety of light-duty industrial applications, including light oxidation removal, blending of minor surface imperfections, surface cleaning prior to coatings, removal of small burrs, and basic equipment clean-up.
Multi-purpose abrasive discs work well on most metals
Tough, pliable nylon web cleans and deburrs while leaving a professional finish
Open web is load resistant, limiting build-up of debris that can clog the abrasive
Available in medium (MED) and very fine (VFN) grade aluminium oxide mineral Maroon.
Versatile and multi-purpose, Buff and Blend GP products work well on a variety of substrates, including ferrous and non-ferrous metals, aluminium, high nickel/chrome alloys and stainless steel. Non-woven construction makes this disc spongy and responsive so that it conforms to work piece contours or irregularities.
Gaps between fibres allow swarf to escape, so the abrasive does not get clogged with debris. Minimizing swarf and debris prolongs abrasive service life and keeps minerals cutting sharper for longer. Nylon fibres won't splinter during grinding, offering a good alternative to steel wool. Moreover, as the fibres break down and fresh mineral is exposed, it reduces the likelihood of the disc smearing the surface. Standard Abrasives™ Buff and Blend products deliver a consistent cut and finish — part after part.