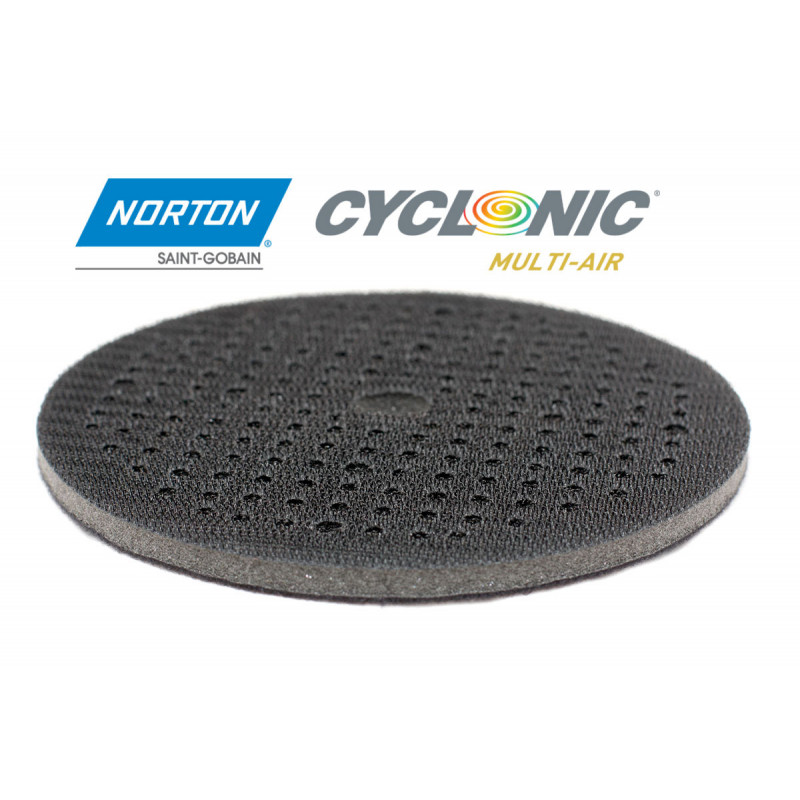  
150 mm 6" Norton Interface Pad Saver Mousse Map Multi Hole Hook&Loop Foam
Delivery
Free delivery on orders over £40, various services available (RM24, UPS)
Norton Multi-Air Interface 150mm
Fit to all 150m 6" backing pads.
NORTON Multi Air Cyclonic - The Complete Process Solution
Norton Multi-Air foam interface pad to go between the backing pad of your sander and the abrasive disc.
The Norton Cyclonic range will provide you with a complete sanding solution that will help to minimise your sanding time and increase productivity with 4 easy sanding steps.
Features & Benefits:
The improved dust extraction technology extracts 25% more dust, and with the unique hole pattern increases productivity by up to 32% compared to conventional multi-hole sanding discs.
The discs provide closer sanding as they are flatter and the abrasive surface is also increased which will allow a more consistent and faster cut rate
Due to the Norton ceramic grain, which are sharper, cut cooler and wear more evenly, provides consistent sanding results.
Using the Multi-Air Cyclonic will leave an improved surface finish throughout the life of the disc
A generous 10 mm thick, these can help to prevent cutting through on the edges of the work, also helping to smooth over swage lines etc. and following curves.